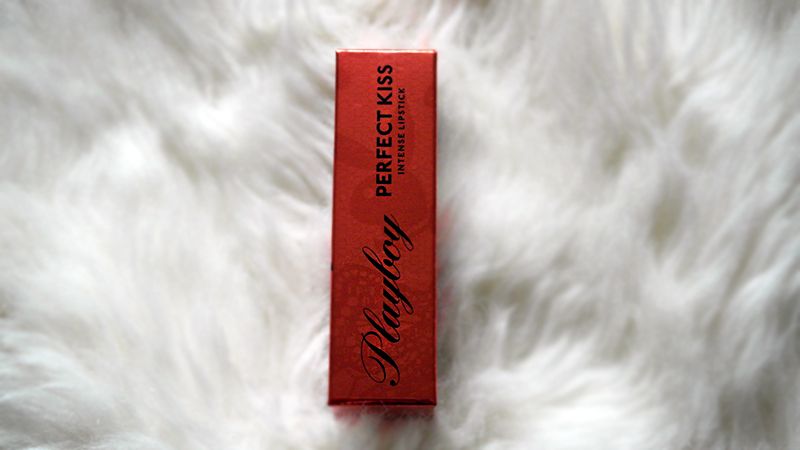 Playboy would not be the first brand to pop into my mind when I think of make-up. However they recently challenged that idea and have released their own cosmetic line. The capsule collection consists of lipstick, bronzer, nail polish, liquid liner and more. I reviewed their
liquid liner
, and now I'm reviewing their lipstick.
Swatched on hand in natural light, and on lips in artificial light.
Pros:
+ Highly pigmented
+ Creamy texture
+ Applies easily
Cons:
– Slight transfer when eating/drinking
– Shade isn't suited to my skin tone
– Scent doesn't appeal to me
Notes:
I was pretty excited by this shade when I first saw it – it looked like an affordable dupe for Lime Crime's Great Pink Planet lipstick. After swatching it, I was convinced. The lipstick is highly pigmented and has a creamy texture that makes it easy to apply, and it isn't drying. I was very impressed with the pigmentation on this as so many lipsticks get it wrong. So for a new brand to bring out something like this, it's impressive. Unfortunately after applying it I realised the shade isn't suited to my pale skin tone, which is a shame. I still really love this colour though. It does transfer when eating/drinking, but not as much as some lipsticks I've worn. It's still annoying, but at least you won't be left completely bare lipped afterwards. As for the scent, I can't quite pin it down as it's quite generic, but I dislike my lipsticks having a scent so it doesn't really matter anyway – it's nothing personal against this brand. I'm on the fence about this lipstick as I love the pigmentation, the texture and I can appreciate the shade, however I wouldn't purchase it as it just doesn't suit me. These lipsticks rrp at £7.95 which isn't too bad, and I would be tempted to buy another shade, however there is currently a sale on at
Direct Cosmetics
, and the lipsticks are now only £3.95 – bargain!